Norman Keith "Sailor Jerry" Collins
Norman Keith "Sailor Jerry" Collins, a classic adventurer shaped by early 20th-century America's opportunities of discovery. Jerry tried it all, tattooed the heartland of America 
while hopping freight trains.  
He started tattooing with hand-held tools during his late teens but then he really got going.
During his late teens, Jerry met an artist named Tatts Thomas, a Chicago tattooer known for his eccentricity. At the time, tattooing was considered to be exotic and the common tattooer was a performance in itself, Tatts Thomas was no exception. Collins credits Thomas with teaching him electric machine tattooing. Under Thomas's tutelage, Collins honed his skills and developed his signature style, which was characterized by bold colourful tattoos. He also learned the importance of proper hygiene and safety measures in tattooing. Thanks to Thomas's teachings, Collins was able to establish himself as a tattoo artist and eventually opened his own shop in Honolulu, Hawaii.
Jerry's favorite story from that time was of Tatts procuring subjects for him to practice on. This usually involved paying bums from Skid Row in wine or change for the privilege of tattooing them. However, Jerry claimed that Tatts had a better source – a friend who worked the night shift at the county morgue. One night, they took Jerry to the morgue with a portable battery setup, machine, and ink, and left him alone with a corpse on a table. The "corpse" sat up and yelled, "What the hell are you doing?" Tatts and his co-conspirator appeared from the shadows, laughing at Jerry.
Jerry had a flair for drama and a keen sense of himself and the world. He was a big man who loved the traditional seafaring ways, but also saw the world with a romantic bias. He had a lifelong passion for the exotic, whether it was in foreign ports or ancient Chinese thought systems. Jerry saw the mysteries of life in his day-to-day routine and looked to a higher power, "Old Graybeard," for inspiration and guidance in later life.
However, the man with a passion for the ethereal and creative also became a staunch conservative who promoted an "America First" viewpoint. He was a bit paranoid about commies tho. The events of post-World War II and America's decline as a world leader in the 1960s led to his increased obsession with politics. He felt that values were fading and devoted more attention to this in the years leading up to his death in 1973. During 1968-1970, he hosted a night-owl talk show on the ultraconservative Honolulu radio station KTRG, as "Old Ironsides." He mixed political and social commentary with his poetry and read it to insomniacs and lonely listeners across the Pacific.
Regardless of his political beliefs, Collins approached everything with absolute conviction, sincerity, and determination. Jerry loved Hawaii and America. He was a crusader in everything he did, whether it was fighting for political justice, learning advanced electronics, or establishing tattooing as a legitimate art form. Hawaii, with its remote location and exotic beauty, had a profound impact on his ethos. He saw Hawaii as paradise, and his own poetry reflected the romantic island ideals personified by Don Blanding, Hawaii's poet laureate of the 1920s-1940s.
Jerry lived his life with unbridled passion, embracing the art of tattooing and making it his own. He combined the traditional American tattoo style with his own flair and the influence of his travels to the Far East. Sought after by sailors, soldiers, and civilians alike for original designs.
Jerry was a larger-than-life figure, who never hesitated to speak his mind and stand up for his beliefs. His life was a testament to his love for adventure, creativity, and conviction in the power of the individual. He will forever be remembered as a true original, both as a tattoo artist and as a person. Despite his political views, his legacy as a tattoo artist lives on. Sailor Jerry inspired generations of artists to carry on the traditions and techniques that he perfected.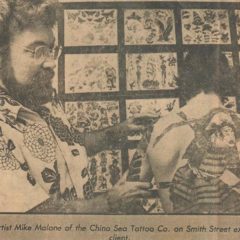 Sailor Jerry went out of his way to mentor those tattoo artists whose talents and attitude he respected. Among them tattoo legends Don Ed Hardy, Zeke Owen, and Mike Malone, to whom he entrusted his flash designs.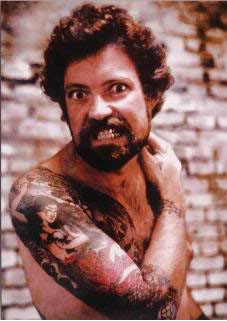 Ronald "Zeke Owen" Moziek took the time to comment of his knowledge of Jerry.
"Like Sailor Jerry, he was bar-none the master of his business and for generations. God knows when they'll never be another guy like him. He had degrees in electronics and philosophy, held Master Seaman's papers, and had his own all-night radio commentary. He'd work all day tattooing in his shop, then rush to the radio station for his open forum where he could call up and talk about anything. He even invented a formula for navigators to correct the earth's curvature, using his own mathematical formula. He was completely ingenious and had all sorts of hobbies in his shop. Despite being isolated on an island, he was a staunch American, and went to sea during World War II as a seaman, where he did navigation and radio work. When he returned from the sea, he opened up his shop again and went back to tattooing.
Sailor Jerry took the Japanese style of tattooing and combined it with Western techniques to create his own unique style. He was a strict individualist and worked in his own technique and method, making it impossible for anyone to duplicate his style. When you speak of Sailor Jerry, it's clear that he was one-of-a-kind."
Sailor Jerry has a tattoo lineage connection directly to Tattoo Box in Montreal. 
Norman Keith "Sailor Jerry" Collins